The Home of Pool, Foam and Rubber Supplies
Whether you're a home renovator or a handyman, an avid builder or an occasional crafter, ScottsFRP has all your needs covered. Based in Toowoomba, we have a shed full of options for foam, rubber, and pool supplies. Our experienced team is on hand to help you find the products you need to get busy.
We Can Help You!
ScottsFRP serves the national market, providing products for a wide range of industries and individuals. We can service the commercial, mining, and agribusiness industries as well as schools, government departments, councils, families, hobbyists and DIYers. And that's just the short list!
Our Products
We pride ourselves on providing all the quality products you need to get the job done. For your convenience, we sell all our products by the metre and we'll cut them to size, too. If your family is looking for an above ground pool or you're a local farmer searching for practical supplies, you'll find what you need at Scotts. Are you after something specific that's not on the list above? No worries! Get in touch to see if we can help you.
Toowoomba Store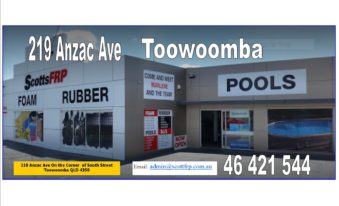 Mon – Fri 9:00am to 5:00pm
Saturday 9:00am to 1:00pm