KREEPY KRAULY KLEVER CLEANER HOSE – $24.95
Hose length to suit Kreepy Krauly, Klever Kleena.
Foam • Rubber • Pools
About Us
ScottsFRP are your local Foam, Rubber & Pool experts, stocking a massive variety of products to suit all types of projects, builds, crafts, lifestyles and work places. Available in Toowoomba:
FOAM – Mattresses, beds, bed protectors, furniture, bed covers, overlays, pillows, latex, polyester, sheet foam, filter foam and more.
RUBBER – Auto-pinchweld/extrusions, rubber matting, carpet, carpet protector, plastic, indoor/outdoor mats, sheet rubber, ute matting, strip rubber, chair tips, grommets, exercise bands, vinyl and more.
POOLS – Above ground pools, chemicals, filters, sand, cartridges, ladders, sports rolls, pool toys, parts and more.
Toowoomba Store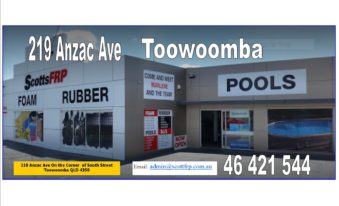 Mon – Fri 9:00am to 5:00pm
Saturday 9:00am to 1:00pm